PRIVATE LTE AND 5G NETWORKS FOR ENTERPRISE - WHY AND HOW?
Why deploy Private LTE and 5G networks for enterprise? When wireless security, reliability and wide-area performance matter. If you are looking for a guide to Private LTE read on.
Up to now, enterprises have had only two choices for deploying broadband connectivity. WiFi, designed for basic Internet access and small deployments that don't scale up, or public cellular networks with high quality at national scale that don't scale down. There is a huge gap in the middle for business-critical networks and larger networks from tens of thousands of square feet to many square miles – warehouses, factories, airports, hospitals, schools, smart buildings and venues. They need a network that provides the reliability and coverage of public cellular with the simplicity and affordability of WiFi: Private LTE and 5G networks for enterprise.
Private LTE and 5G technology today allows anyone to build their own private 4G or 5G network. This means that you can use your Apple iPhone 11, Google Pixel 4, Samsung S10 and others (see below for more information), plug in your own "private" SIM card (physical or eSIM) and manage YOUR devices and YOUR network.
Open Spectrum: frequencies for Private LTE & 5G
The recent availability of Open Spectrum (lightly licensed or unlicensed LTE/5G spectrum for enterprise use) and enterprise-level Private LTE solutions have made this technology a viable option for all enterprises. Examples are:
CBRS (Citizen's Broadband Radio Service) in the USA: CBRS, authorized for Full Commercial Service by the FCC in January 2020 (click here), is governed by a three-tiered spectrum authorization framework to accommodate a variety of commercial uses on a shared basis with incumbent federal and non-federal users of the band. Access and operations will be managed by a dynamic spectrum access system, conceptually similar to the databases used to manage Television White Spaces devices. The three tiers are: Incumbent Access, Priority Access, and General Authorized Access. There is a hierarchy of access priority – first comes U.S. Department of Defense (Incumbent, US Naval Radar ) where and when it needs the spectrum (i.e. along coast lines), then come PAL licenses (tender started in July 2020), then come "free" GAA users. Therefore it is likely that GAA will be more scarce in certain areas (e.g. urban) and in higher supply in other areas (e.g. rural). 20MHz can achieve up to 100Mbps throughput per cell.
UK – Licences are provided on a first-come first-serve basis for a nominal fee. Click here for the licence application.
France – France was the first country formally to open licences for private use in May 2019 and first licences have been awarded to airports and railway companies. For more information click here.
Germany – Licenses are provided by direct application to the national regulator (Bundesnetzagentur). A link to the application process and fees can be found here.
More open spectrum information and the relative countries are shown below
The Market for Private LTE/5G & Real Use-Cases
With the growing need to increase efficiency and competitive ability, enterprises are implementing a wireless-first strategy. Private wireless networks using cellular technologies like LTE and 5G are the perfect fit as they are architected to deliver broadband wireless service with controlled quality of service, robust security, resilience, reliability and mobility.
Private LTE and 5G networks for enterprise applications are growing: as reported by ABI research (click here for the article) Private 5G networks spend will reach $25B in 2026 and $110B in 2036. By 2036, what is spent on enterprise cellular will be more than public cellular. Enterprise use cases will be more important than consumer use cases.
Private LTE and 5G networks for enterprise covers a wide range of enterprise and industrial IoT applications:
Schools: With the rise of Covid it has become fundamental to provide access for the local community to school resources, especially for those students who lack Internet access. The Murray School District has deployed its own Private LTE network to address these needs: click here for more information.
Airports: Communications are at the heart of all airport operations including asset tracking (to ensure that the right vehicles and equipment are where they are needed), ramp operations (to coordinate workflow and provide real-time information) and airplane applications (entertainment upload, POS etc.). The EU's largest airport, Paris Charles De Gaulle, is deploying a complete Private LTE solution for voice, video and data that will be rolled out to all airport staff: click here for more information.
Public Safety: real-time communications are widely as a key tool in the early hours of an emergency to enable emergency workers to save lives when everyday cellular networks are either overloaded or damaged. This has been proven in the first disaster where a dedicated Private LTE network was immediately deployed and supported for the first time emergency worker communications including real-time body-worn video but also Internet connectivity to tent offices and tent camps where large numbers of people took refuge and lived in for months during the city's reconstruction. Click here for more information on the Private LTE emergency deployment. Today LTE networks for public safety are being deployed nationwide. A recent example is the French government's PCSTORM project that has built an LTE network for the French police. Click here for more information on the French government's LTE deployment.
Mines: underground mining represents one of the most challenging and demanding
environments to provide mission critical communication services. Safety at work and reliable remote control of equiopment is mandatory. The leading mining companies worldwide are turning to Private LTE for solutions. An example is Agnico Eagle's Flagship mine, the deepest in the Americas. Click here for more information.
Manufacturing and Industry 4.0: Robots and factory automation require highly secure and reliable broadband wireless communications. The rise of Covid is making factory shop floor control, using wireless networking, ever more important for productivity and employee safety.  Quoting a Wall Street journal article ""You wouldn't be comfortable putting your industrial applications on a Wi-Fi network because there's no reliability," said Petar Popovski, a professor of wireless connectivity at Aalborg University in Denmark.".
Hospitals: Secure wireless networks enable helathcare facilities to perform real-time patient monitoring, asset tracking to ensure optimal deployment of medical equipment amd general secure digital communications involving sensitive information. More information is available in this article.
Smart Buildings and Events: Commercial real-estate needs leading edge communcation services to attract customers and to provide a secure indoor environment. While WiFi is always a requirement for public access (e.g. visitors), many applications required greater control, reliability and security such as Building Management Systems (BMS), HVAC, security systems, video surveillance, digital communications (e.g. workflow, Push to Talk). Furthermore event venues require secure connectivity for its concessions (e.g. Point of Sale).
Holiday Resorts and Residential Parks: these areas have been challenged to provide broadband connectivity to their residents due to the cost of running cable to all lodges. A private cellular network eliminates all the cost and disruption of campus-wide fiber and cable. A simple LTE/5G modem in the lodge now connects to a local WiFi hotspot to provide trouble-free Internet access. Guests can also make and receive calls natively on their smartphones using WiFi calling from their mobile operator. The private network can also be used by the facility for security and operational communications. Click here for an example.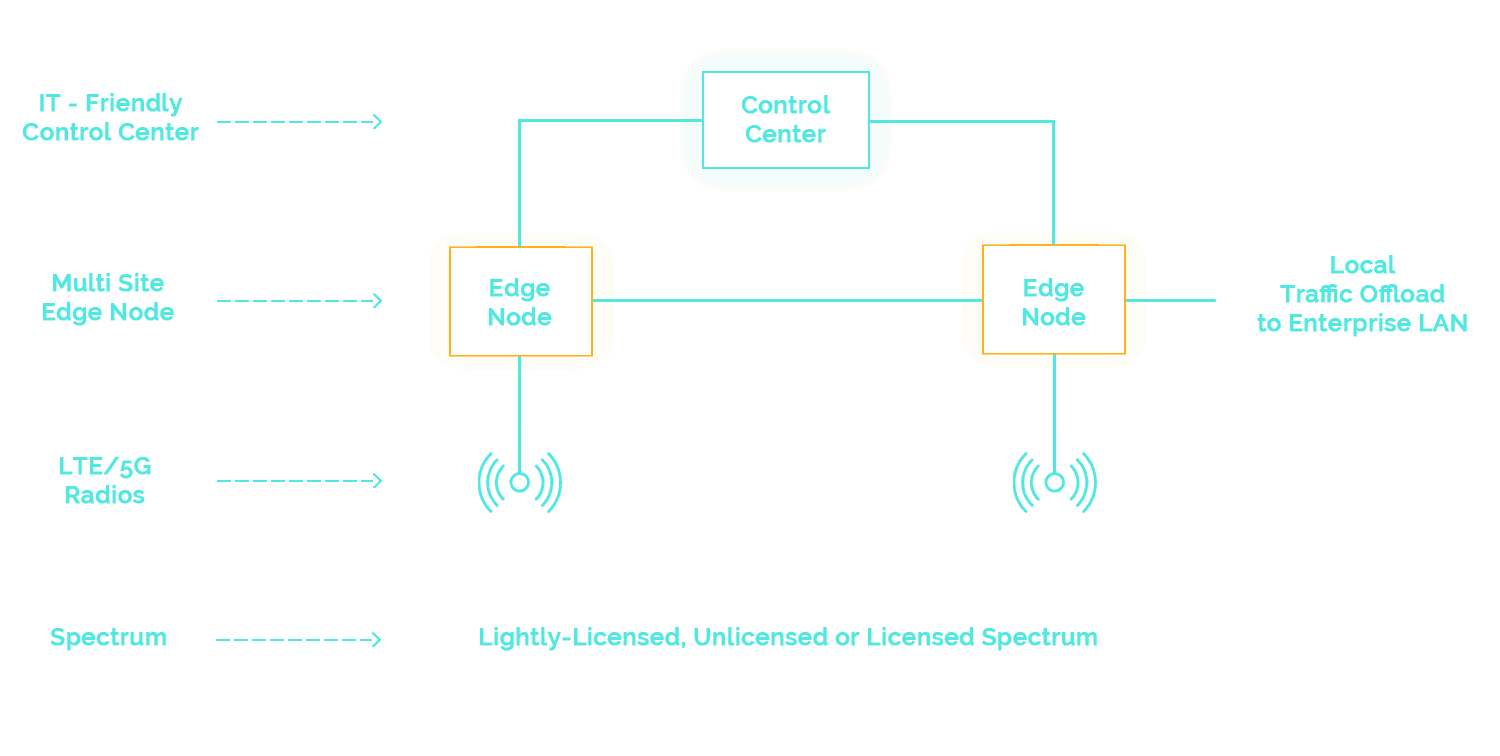 The four key components to deploy a private cellular network are described in more detail below:
A Control Centre which is the brain behind the network and controls which devices are allowed to connect to the network and directs how traffic should be prioritized, routed or segregated;

An Edge Node that acts as an on-site traffic router and gateway to and from the radio network. The Edge Node is usually sited in the same campus as the radio network (or an aggregation point of several campuses) to keep traffic local to maximize security and performance;

Radios that radiate a signal in specially earmarked private LTE/5G frequencies on a campus (often called small cells, access points, CBSDs); and a

Spectrum license authorising transmission of radio waves into the private area. In most countries this is a fixed term licence issued by the regulator to a particular licensee. In some jurisdictions, like CBRS in the USA, this is an electronic authorisation that is dynamically managed by a cloud-based Spectrum Access Service (SAS).




In a private LTE context, we call the Control centre and the Edge node together the Connectivity Platform.
CHOOSE YOUR NETWORK INTEGRATOR
There are a wide variety of LTE radio's available to choose from depending on the coverage area and power output sought. For convenience its useful to think of private LTE radios in three categories:
Indoor Low-power – these typically have the look and size of an enterprise Wi-Fi access point and operate at the same power levels although due to the advanced characteristics of LTE/5G radio technology, they are generally quoted as providing 3-4 times the coverage of Wi-Fi (source: Heavy Reading, Private LTE Networks, July 2017);
Indoor medium power – These are at the higher end of the power spectrum but still designed for indoor use typically on factory floors, warehouses and non-carpeted areas. They operate at power levels that are higher than Wi-Fi but much less than a mobile operator base station. Wide-area trials have shown that an LTE radio can cover the same area as 10's of Wi-Fi access points; and
Outdoor High Power – these operate at the highest power levels allowed in liberalised spectrum and can be compared to the low-power end of a mobile operator's radio. A single radio can provide several kilometres of coverage and support several hundred concurrent users. If using mobile operator spectrum, then power levels can be turned up significantly higher and tens of kilometres in radius can be covered from a single radio.

Network integrators can design, configure and install radios based on manufacturer's coverage estimates, a coarse field survey and a radio planning tool. For CBRS deployments in the USA these integrators must be Certified Professional Installers (CPIs) able to configure the radios to connect to one of the Spectrum Allocation Server (SAS) providers.
Athonet has interoperated with all commercial vendors of LTE radios and selected 5G radios. We can refer enterprises to partner network integrators for full end-to-end network deployment.
CHOOSE YOUR DEVICES
Once the radio network is connected to the Connectivity Platform, your Private LTE and 5G network is live and ready for use.
If you are deploying in the USA under CBRS then you will need devices in Band 48 which include the Apple iPhone11, Samsung Galaxy Note 10, Motorola Push-to-talk devices, Google Pixel 4 and a number of industrial routers, modems and bridges from Cradlepoint, Multitech, Sierra Wireless, Telit and others.
In the UK, France, Japan, Netherlands and Sweden, much of the spectrum made available for Private LTE is on existing LTE bands that work with most existing LTE devices. In Germany, Sweden, Finland and the 3.8-4.2 GHz band in UK, the private cellular spectrum is on new 5G related bands for which devices will be available. Meanwhile, in Germany in particular, existing LTE Band 43 devices may be deployed in the private cellular spectrum.
Athonet's network integrator partners can support enterprises in selecting the best devices for each specific application. Contact us for further information.
MOST REQUESTED APPLICATIONS
Some of the most popular applications on private LTE and 5G networks are listed below. Athonet's partners are available to provide these as part of a bundle package:
PMR/TETRA walkie-talkie replacement with broadband LTE service (Push-to-talk and push-to-video)

Wireless phone (DECT) replacement for voice/video communications. Voice over LTE integrated with the enterprise PBX

IoT with reliable, secure, two-way communications with a diversity of bandwidth and power options

Easy-to-deploy video surveillance via fixed, mobile or bodycams




Augmented Reality, Virtual Reality, for expert control of remote facilities; data visualisation at construction sites, mines, oil & gas and other complex environments; and

LTE arterial links to connect up Wi-Fi hotspots in hard to reach area